By: Julee Lockard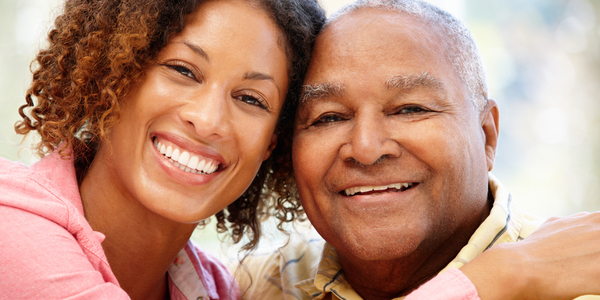 With Mother's Day under our belt, we are starting to think about what to do for Father's Day. How about some practical but fun ways to give those special guys in our lives added comfort and safety on their home turf.
The Man Cave
Replace the tired old recliner with a Lift Recliner. A variety of comfort features exist including ability to lay flat, massage and heat as well as tilting for ease of standing. Lift chair tables can be added to make it easier to enjoy a cup of coffee and hold reading materials.
Remote adjustable blinds manage lighting as oftentimes blinds are difficult to manage due to furniture placement.
Declutter the nest area to make creature comforts easily accessible.
Place a cordless phone within easy reach and purchase a touch lamp or voice activated light for easy light control.
Designate a container for the remote and iPad/ cell phone to reduce the risk of knocking them to the floor.
Don't forget a reaching stick (aka grabber) to pick up the remote or other dropped essentials.
The Office
At the work desk, exchange rolling desk chairs for comfortable, stable, ergonomic chairs with arms.
Adjust computers so the top of the screen is in line with the eyes to promote good posture.
Organize and prioritize supplies and storage for ease and frequency of use.
Elevate trash cans to reduce fall risk when bending over to remove trash.
The Throne
How about replacing the toilet with a comfort height seat?
Decorative grab bar toilet paper holders are an easy way to "sneak in" support for those reluctant to add institutional looking grab bars.
While you are at it, replace the towel bars with matching decorative grab bars.
A seat in the shower, showerhead with a hose on an adjustable glide bar will add both comfort and safety.
Replacing drawer and cabinet knobs or pulls with D-shaped pulls will make managing drawers easier in the long run.
Remove bathroom rugs and rubber mats in the shower and replace with anti-slip strips.
Find a designated place for a scale away from the walkway to keep pathways clear and open.
Gadgets & Home Automation
UControll and Open Sesame are a couple automatic door opener systems controlled by a remote to open doors, eliminating the need to rush to the door and improve safety especially when using a walker.
Adding outdoor cameras allow you or your loved ones to monitor their premises from the safety of their home.
Set up voice activated lighting, temperature control and remote calling through systems like Blink Home and Alexa.
Improve lighting quality with LED lights, set up task lighting, and add motion activated lights to dimly lit areas such as stairs, closets.
Streamline or automate pill management with pill sorting by the dose, delivered to their door. Consult their insurance carrier directly.
Fall detection services and health monitoring systems are evolving rapidly. Apple watch now has a fall detection feature that is seamless, automatic and no additional charge.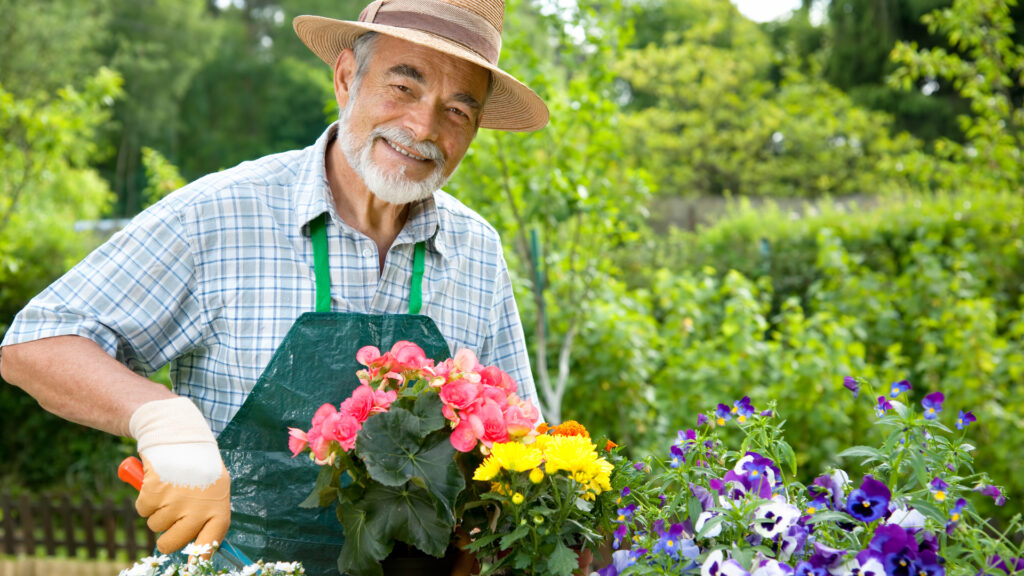 Gardening
Raised, vertical and container gardens are beautiful and functional. Raised gardening decreases the need for bending and stooping by bringing the garden up to a functional height between thigh and eye level.
Give him new tools such as garden grabber, Perfect Garden Tool System, Easi-Grip garden hand tools and other ergonomic tools are available based on individual needs.
Watering systems can be set up and put on timers or automated.
The Snip-N-Drip Soaker Hose System can target water where it's needed in the garden.
Setting up an indoor hydroponic garden is another way to continue gardening throughout the year and takes little tending after initial set up while adding a touch of humidity in the cold dry winter.
The Garage
Store the tools on vertical surfaces using a tool organizer or in drawers at easy to manage heights.
Set up a safe seating area at the workbench area that does not have wheels or swivel features.
Add task lighting and increase the brightness of lightbulbs in the garage.
Add stair rails to both sides of the garage steps, past the bottom step for increased safety.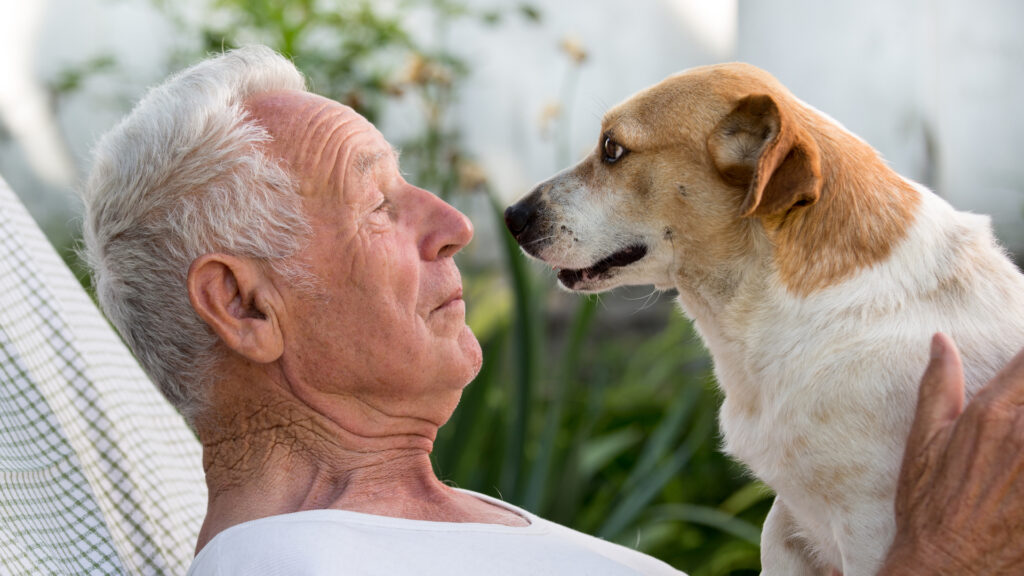 Man's Best Friend
Automatic food and water bowls placed at elevated heights make it easy for our pets and our guys to reach.
Raising kitty litters and pooper scoopers decrease the risk of toppling over when bending on uneven surfaces to clean up.
Cleaning and Decluttering
Help maintain his health and safety by decluttering, tidying and cleaning. Clear pathways; open floor space increases safety.
Widen walkways around furniture and consider removing furniture to open floor space.
Store frequently used items between hip and eye level to avoid stooping and use of step stools.
Digitize and organize pictures and paperwork.
Not sure where to start? Did you know that Occupational Therapists (OTs) who specialize in Home Modifications can help guide you and your loved one through prioritizing their comfort, needs and goals to remain safely in their home? OTs come to the home, discuss your loved one's abilities, consider future goals and needs, assess the home and provide a tailored plan. These professionals ensure the plan is properly carried out and your loved one is educated about how to manage the updates. Involving an OT in home remodeling can be more cost effective as OTs are creative and practical problem solvers with comprehensive resources to assess the entire situation.
To find an Occupational Therapist in your area who specializes in home modifications, visit www.HMOTA.net
Written by:
Julee Lockard, MS, OTR/L, CAPS
Just Right at Home, LLC–Western Chicago Suburbs
Edited by:
Kathy Subasic, PhD, OTR/L, CAPS, ECHM
Forever Home, LLC | www.foreverhomect.com
You might also enjoy this article about unique gifts for mom!